Hoveryboy - A Skater Shooter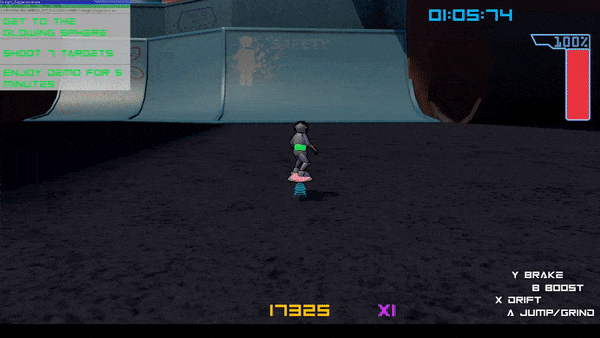 Hoverboy is a 3D game about gaining consciousnesses as a service robot and learning how to have fun in the dangerous world around you. The Hoverboy that you land on will hover you around while you learn to move, grind, shoot, and survive in a futuristic skate park.
There are 3 levels of the park to explore! From your basic future skate park to giant grind bowls and loop-de-loop tubes. You can do tricks off of ramps, rails, cars, pipes, and even thin air! Be careful where you skate though, not everyone is going to be happy with a sentient robot so you there will be opposition. Good luck!

Hoverboy is currently a vertical slice demo for what the full game is going to be. This game was made for a senior Capstone project at DePaul University.